This week has been crazy! We have a few get togethers over last weekend and went shopping. Then Monday night Doodle got really sick. Throwing up in her sleep sick! :( It's working its way through the family right now. Robin doesn't feel well and threw up last night. *sigh* I am drinking Ginger Ale and telling myself it's because I've seen so many other people throw up. But I don't feel exactly perfect.
Other than THAT. I've started a new book this week!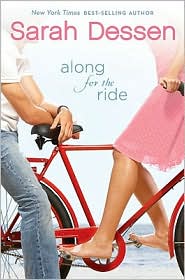 Along for the Ride by Sarah Dessen. I am enjoying it a lot actually. Even though it is a teen book and Sarah Dessen is a teen author, this book seems more grown up. It's because the main character, Auden (which is a cute girl name by the way!) didn't have much of a childhood. She matured too quickly under the intellegence of her parents, who pushed her to succeed rather than have fun. That's a complete different world to me. Lol. Success without fun is pointless!
I made Becky from Strumpets Crumpets two adorable hats! She requested a child and adult size fox hat this year for Christmas. She asked me last year for Christmas too and one of her cousins got a little foxy hat! It wasn't as cute as these if you ask me!! I had a hard time last year with the ears, but this year they were so much easier!
This is the adult size hat, for Becky.

This is the child sized hat.
There isn't that much difference between the two. I made the ears ont he child hat a little more perky, just cause, it's a kid! It's so funny, when I was finishing the hats, Robin and Doodle were watching Milo & Otis and there was that adorbs little fox running all over the place!
So, Do you guys feel like this year was a good one? Have you stuck with any of your resolutions?
I've stuck with one.

Growing My Hair for a Year. This time last year was the last time I cut my hair. I got it cut to shoulder length to even it all up. I want to cut my hair now, but at the same time I want to let it grow.