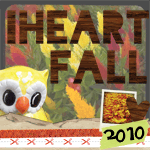 you guys are going to get so sick of me this fall.
because I am so gung-ho about it. :)
I signed up for this journaling class!
What can I say, it is my new obsession.
I can't wait to get started!
So, if you're in the I Heart Fall Class,
follow me so we can keep up with each other!
W.I.P UPDATE

:
I took Doodle outside to play today and while she ran amuk in the yard I sat in the swing and crocheted granny squares for my blanket.

can you see her peeking out of her house? and yes, our gas tank is painted as a cow. gotta love my dad. he's crafty. i get it all from him!!

I thought I was nearly finished. After laying it out the other night I realized it wasn't big enough to go on my bed. Now, I have 4 more big granny squares I need to make! No Problem! Here is the most recent one!
Three cream rows down, six more to go! Then, 3 more granny squares.... It's getting there.
I am so feeling these colors for the season change. The last bits of summer hanging on and the gradual change to Fall.
I am planning on making a full post dedicated to what colors I am loving for fall. I have this all planned out in my head.. and the colors may be unusual, but I am so ready to work with them.
I want to badly to get started on new project, but I am being very strict with myself. I will not stop making this blanket, because IF I do, it will NEVER get made. It will fall in the pile with all the rest that I have tried to make then put away. I can't let myself do that. I have to finish this like my life depends on it.
You guys will help keep me accountable, right?
In other news:
I am in love with Little Big Planet!
It is a crafty little game! And SO ADDICTIVE. This is the first game I have ever actaully wanted to play for hours on end. I played online to day and had a ton of fun with a person I met through "quick play."
I am so going to make a sackperson.
If you have a PS3, GO GET IT! NOWWW! :) They have a new one coming out soon! Here's the trailer. Let's all be amazed!


Okay, I'm signing out. Peace.