i am still alive. i haven't fell off the face of the earth. ...yet.
But I have been a BUSY bee. So busy in fact that my blog love time has been reduced to NIL! and that doesn't make for a happy Heather.
I've also been spending all my spare time playing LBP... tehe. I'm addicted. And I got another controller so Robin and I play together!
BUT my schedule is about to become even more PACKED! I'm involved in some really awesome things and I just want to share them with you!
Most recently I joined Itsy Bitsy Spider's Pumpkin Patch Crochet Along!

If you crochet, you should JOIN! It's FREE! There is a flickr group where we can share our pictures and of course you'll get to meet more crafty fun people! I'm so excited to get started on this! I have a lot of cute ideas for my pumpkin patch!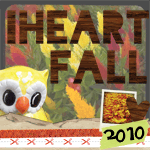 Then, there is the I Heart FALL Online Art Journal class put on by Janel from Run With Scissors! If you don't know Janel, then you are SERIOUSLY missing out. She is so fun and crafty and just plain awesome! Go.. run along.. check her out!
I also am apart of the Pen Pal Project!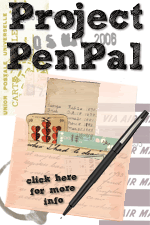 I just got my list in the mail this week and I plan to start writing my letters soon! I know a few people have popped in from this Project already and I would just like to give a HUGE shout out! HEEEY! I can't wait to get your letters!
And I'm a secret pal.
DEAR my SECRET PAL: You are very magnificent! You have made my day, week, month and year! your collage & words literally made me cry. Evertime I eat some of my yummy candy I think of you and your sweet words. I have used and LOST one crochet hook already! My couch ate the crochet hook! LOL! But, I cannot wait to know who you are so I can properly thank you for the joy that you have given me. You've made me feel so happy & thankful. :) You are amazing and I love you. I really do. Who ever you are.
Well, friends. What projects, events, groups and things are you into this month!? What other fun things are out there? I can't wait to see what this fall has for everyone!