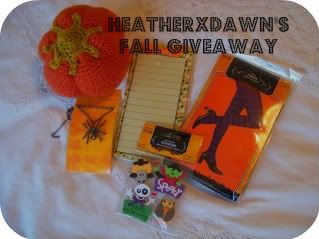 Good Evvvvening!
Velcome to my very special givvve away!
Mwahaha!
:) Halloween is so much fun! I've got a super give away for all my lovely blog readers!!
*A Crochet Pumpkin (yes one out of my pumpkin patch!!)
*A Cute Creepy Spider Necklace
*A Magnetic Note Pad
*Creepy Cute Sticker Pack
& *Purple & Black Tights!
Every thing you could want & need for Halloween!!! Mwahaha! The only things you MUST do is:
-leave a comment telling me your favorite part about October
for additional entries you can:
-tweet about this giveaway
-blog about this giveaway
and
-follow my blog
(please leave your email in each comment so if you win I can contact you!!)
I will pick the winners on SATURDAY!!!! You have until Friday, October 22 @ 12:00 a.m. EST to enter! I will email the winner & they have 24 hours to respond! My wish is for you to get the package before Halloween Night!!!
Totally a treat! NO tricks!!! :)