I am so happy to be journaling again in the New Year... New You Journal Class with Janel and all the lovely ladies! Janel is so awesome, and I am so thankful for her for so MANY reasons!! I want you guys to all know that she is so genuine and kind that I am totally inspired by her! Go over to her blog and get to know her, she is simply AMAZING!
A quick glance at whats been going on in my journal so far:

My MAIN goal for this journal is to be genuine to myself. It is so EASY for me to look at the prompts then examine (read get inspired by) what everyone else has done. Then feebly try to be "cool" like everyone else. I want this journal to be me. Simply. Easy. Truthful. Granted I will probably try a few things that I've seen, but I want come up with my pages without any outside forces.. which is going to be SO HARD! I can totally do this though!
Do you guys ever feel like nothing you do is original? That it's all been done before? I guess this is just one of those things and I don't want to just be a copy. I want to DIG DIG DIG inside my self and pull out the crative genuis that I know lives in the deepest parts of me! She's down there, I just need to coach her back out!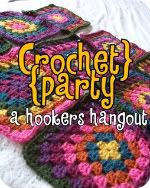 Have you been to the Crochet Party yet? It's growing SO MUCH and I am thrilled! I was so scared to invite people to join and now people are finding it on their own and adding their lovely things! I am so loving these right now:

I love the sleeves and the band at the bottom!! So cute!


I have jars saved to do this project! I need to get on it!
Beautiful Afgan by Poot from Hoot N Annie!
And Courtney's scarf should so be my background for my desktop! The color and definition and cool stitch! LOVE IT!!