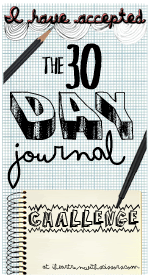 Janel from
Run With Scissors
is having another 30 Day Journal Challenge! Last year I stumbled upon Janel's blog just a few days after she had started the 30 Day Journal Challenge version 1.0! It's a totally free class of great prompts & sharing your pages with the Flikr group. Last year was so much fun for me! It really got me out of this crazy uncreative rut I had been in for a very long time. It helped me overcome some serious issues with myself and honestly, it brought back a lot of joy and fun to my life. You probably think I'm exaggerating, but I promise you I'm not.
Here's todays page:
Simple. :) I used my sharpie pen for the writing then used Autumn's fat crayons for the design! I have to say that the idea of the background wasn't completely original! A couple of days ago Janel posted an aritst feature and I was really inspired by all the graphic designs the artist used and she used a lovely,way more even, zig-zag pattern and I just did my own interpretation of that. But, why is it SO theraputic to color with crayons? Seriously. It is so relaxing!
I can't wait to show you more of my journal pages! :D I hope you all are having a GREAT summer so far!