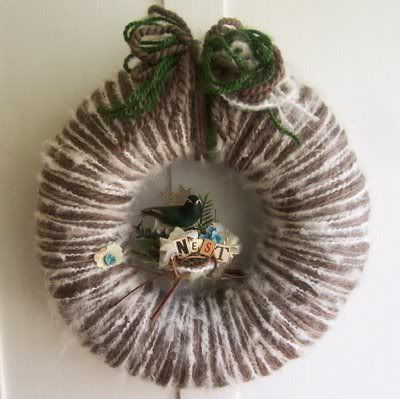 i am SO making one of these for christmas. i have been obsessed with them since about october and really wanted to make one, but didn't come across a good enough deal on a wreath. I found what i'll be using at the dollar tree... my favorite place :)
i had planned on making a TON of ornaments as well this year... but uh... life is getting in the way of those plans. 
i have a craft show coming up & i'm not quite prepared for it at all.. and it looks like the only way I'll be able to get anything new made is to stay up past 12. Which as I'm typing now it's 12.30 and I am so tired I can barely keep my eyes open. (sigh.. i wish i didn't complain so much......)
i have a painting project coming up this week too. my friend destiny and I will be painting a window mural for a community center here in town. excited about it & can't wait to get started.
I really just want to decorate for christmas. i want to turn on my christmas playlist (which is the BEST christmas playlist you will EVER hear:P ) and light up the house and trim it with holly and bunting and handmade things and natural things.
i want a hot cup of tea, coffee, hot chocolate and my breath to be visable. i want snow and mittens. 
i just love winter. what kind of crazy person am I? 
well, i'm seriously about to slump over the computer.. i promise to do better next time. pictures and paragraphs instead of incomplete sentences. 
<3muchlove3>

p.s. the hubs took me to see NEW MOON tonight. he really does love me. i have to say NEW MOON WAS WAAAAAAAAAAAY BETTER. :D that is all folks. *sigh*